Jurassic World: Dominion Dominates Fandom Wikis - The Loop
Play Sound
Preface
[
]
This is a general article aiming to list all known community events in one place. Please see below for a list of events and their short descriptions. All images are linked to their respective main articles where possible or to external sites responsible for the event.
Recurring Events
[
]
Scarfless Saturday
[
]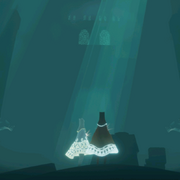 Date & Time: First Saturday of the Month, (any time of day)

Do not collect symbols and travel with little to no scarf!
Ruby Tuesday
[
]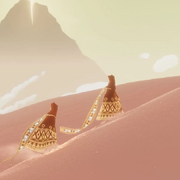 Date & Time: Second Tuesday of the Month, (any time of day)

Travel while wearing a Red Robe!
Journey Anew
[
]
Date & Time: Third Friday of the Month, (anytime of day)

Complete a full journey with the robe of your choice!
Silent Sunday
[
]
Date & Time: Last Sunday of the Month
4:00 AM EST/ 09:00 UTC / 18:00 Japan Standard Time
4:30 PM EST / 21:30 UTC / (Monday, 06:30 Japan Standard Time)

It is recommended to arrange a journey or start at the specified times.
Journey Anniversary Fan Event
[
]
Date: Annually on March 13th
Time: 22:30 UTC / 6:30 PM EDT / (March 14, 07:30 JST)
You can play at anytime if you're unable to attend at the event time! The event is for all Tiers, Robes, and systems.

Below is a list for arranging possible meets between game platforms:
-Playstation 3 / PS Now
-Playstation 4 / 5
-PC Steam
-PC Epic (not recommended, as it has known connection issues)
-iOS
Challenges & Contests
[
]
Spotlight: Image of the Month
[
]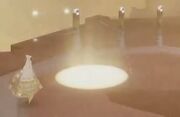 Do you have an awesome screenshot? Want to be featured on the Wiki Homepage?
Here's your chance to enter for the upcoming month and don't forget to check out our gallery for past submissions!
Speedrun Marathons
[
]
Only major worldwide events are listed here.
Check out Speedrun Events to see more past events and an explanation of the different speedrun categories.
European Speedrunner Assembly (ESA)
[
]
ESA is a series of charity fundraising marathons revolving around speedrunning. There are two major events with ESA Summer (Jun-Aug) and ESA Winter (February). In addition, ESA hosts two other events such as Benelux Speedrunner Gathering and Break the Record: Live.
Watch Robsdedude's scarfless speedrun from ESA Winter 2022.
Games Done Quick (GDQ)
[
]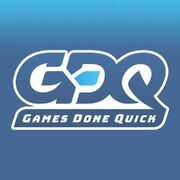 Games Done Quick is a charity fundraising organization that raises money via speedrunning. Volunteers play games at incredible speed for entertainment and are streamed live on Twitch, non-stop, and all donations go directly to the charity.
Awesome and Summer Games Done Quick
[
]
Two of the main events organised by GDQ, happening in winter and summer respectively over the course of a few days.
Watch nathanj's speedrun with commentary by Peksa and stoicmom for AGDQ in January 2022.
GDQ Hotfix
[
]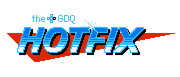 GDQ Hotfix is a recurring show to showcase runners and games.
SanchoPanda ran Any% White Robe Glitchless on April 12th at 11 PM (US Central Time) with commentary from Charybdis (5 AM UK ) for "Time Capsule": a Hotfix show that picks games from a specific year in the past, and asks the runners what it was like playing the game for the first time. Episode is "2012 Vol. 1".
Historical Events
[
]
Journey Walkathon Challenge
[
]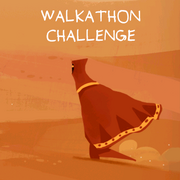 Hosted By: aravshetikolava in the Journey Discord
Date: April 7th, 2022 thru June 7th. 2022 10 A.M. EST
Description: Discover which levels are possible to pass without ever pressing the jump or the chirp button.

Challenge Rules:
Find a solution or an absence of such for all 8 levels.
Never use the chirp button.
Never use the jump button.
Never use an assistance of a companion.
No modding of any kind.
No public videos or streams where you attempt/succeeded at the challenge
To pass a level, move from the entrance cinematic to a next level trigger (inbounds or OOB)
Additional info: Feel free to use any fancy flying or glitches, wear any robe of your choice, activate any carpets, ribbons, murals... anything you can think of!
If you think that some levels are impossible, it's still a viable answer, and it doesn't mean you failed! Move past a level you found impossible and check if next levels have a solution.
To fully solve the challenge, you need to answer correctly to all the 8 levels.
How to participate: Join the Journey Discord and read the additional information in the #important stuff channel for information on how to submit your answers. Good luck!
Winners and Solutions
[
]
Out of the participants who submitted the answers, 5 people got it right:
Knock-knock-joke
Moln
Soulfly
Slinky
Nathanj (who topped everything off, by finding a solution, that aravshetikolava did not find out)

Solutions. Even though the challenge is over, you can still try to figure it out and check here afterwards.
The related talk about solutions and approaches to solve this challenge can be found here, on the Journey Discord.
aravshetikolavas pre-challenge solutions are shown in this video (without Nathanj solution)!
nathanjs challenge playlist on YouTube.
ThatRandomWayfarers solution Underground. Snow.
And more on the Journey Discord...
Another Journey
[
]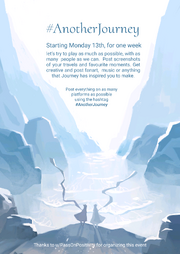 Organized by u/PassOnPositivity on r/JourneyPS3 on Reddit.
They contacted the developers and directly emailed Austin Wintory to gain support for this event to encourage players to play journey as much as possible and to share art & media with #AnotherJourney.
The event lasted for the whole week of September 13th, 2021.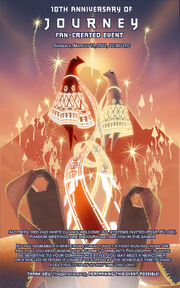 please describe further information here