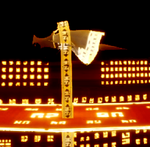 This is a work-in-progress list of simple "tricks" or little things you can do in Journey, that most often don't require too much training.
If you like, create a dedicated article for a certain trick and put it in the "Category:Tricks". Please be so nice and add the trick (and the link) to this list, too!
General tricks
[
]
Pirouette
[
]
See this clip: [MaldoDancing]
Into each other
[
]
When getting stuck in OOB you can be pressed into each other:
Flips (Various)
[
]
Main article: Backflipping (and variants)
Sand tricks
[
]
You can pile it up, make your feet look black at the start of a certain vision, make yourself look like hovering in the air for the Companion etc.
More information to be added. See the video below:
Standing Flap
[
]
Flapping while staying on the ground.
Video "move your arms":
Tricks in Chapter Select
[
]
Turn your head (creepy o0):.
[
]
Read the video description too.
Tricks in the Tower
[
]
Tricks in this section only work in the Tower level.
Faceplant and falling down tower
[
]
Stuck / hiding up at corridor to Whale Room
[
]
Below information concerns PS4. No info about other platforms.
Avas clip https://clips.twitch.tv/RoughEphemeralEagleAMPEnergy
Robins clip https://clips.twitch.tv/KindJollyBurritoPlanking
" Last Sunday (12.11.2017) I traveled with a red cloak (2 tier).
By coincidence, we took a break in the whale room. I became bored and I decided to push my companion closer to the exit.
But somehow he was stuck in the right corner of the arch, as if he had collided with an invisible wall, in despair I fp on him and pressed the touchpad.
After I returned the screen, my companion was not there anymore, but I heard a loud sound resembling the sound of a train. His location was higher than mine and he rocked like a cocktail shaker in the ceiling. " — Robin on discord
Answer with more information about the sound and glitch from Alex

that's really cool, I didn't know you could make that sound without modding!!

I hear that sound if I have the sand lower for one player than for the other.

For the player with higher sand, the avatar of the lower-sand player is reported to their console as being below sand, but the game doesn't like that, so pushes their avatar up above the sand.

Then a fraction of a second later, their position is reported below the sand again.

The console again pushes them above the sand. It repeats constantly like that very fast up and down, and each time it plays the sound of their cloak flapping in the wind.

Since the companion avatar is forced out of the sand with great force, it ends up significantly above the sand (or building). So what's happening in your video that I've never seen is the companion paused, sunk into an obstacle, and was pushed into a spot where the game couldn't force it out sideways, and instead is trying to pop their avatar straight up to resolve the collision conflict.

So that sound, to be clear, is a lot of layered cloak/wind/flap sounds, which is why it gets so loud.
See also
[
]
. . .
References
[
]
. . .